What are the challenges and the opportunities for tanks in the retail net in the current pandemic context? The Covid-19 crisis has torn both our society and our companies out of the established day-to-day business. It is leaving traces. And its effects will continue far beyond the current year 2020 and beyond the national borders of the individual states.
In an essential step, this also affects mobility and the energy sector, which reacted in a first pace with the drop in the oil price. We have taken this as an opportunity to share a few, from our point of view, essential thoughts regarding tanks in the retail net:
Short-term solutions
Pollution and maintenance work do not stop with the Coronavirus. In some cases, it is necessary to react immediately. Tank and sump sealing and lining are the most flexible solutions for giving the system an additional lifespan of up to 20 years. And this, without a significant impact on the operation of the station, avoiding an additional loss of sales during the tank repair.
Currently we are observing increasing opportunities for tank lining in various countries. Just to mention some examples: Bühl (Germany), where several tanks were lined in the beginning of May with DOPA® Lite, or in Córdoba (Spain) with DOPA®.
In this situation we can offer a tank interior renovation or coating with a working time of only 3 days. It will give the tank a second phase of life of 10-25 years using non-flammable and solvent free materials mitigating related HSE risk in application.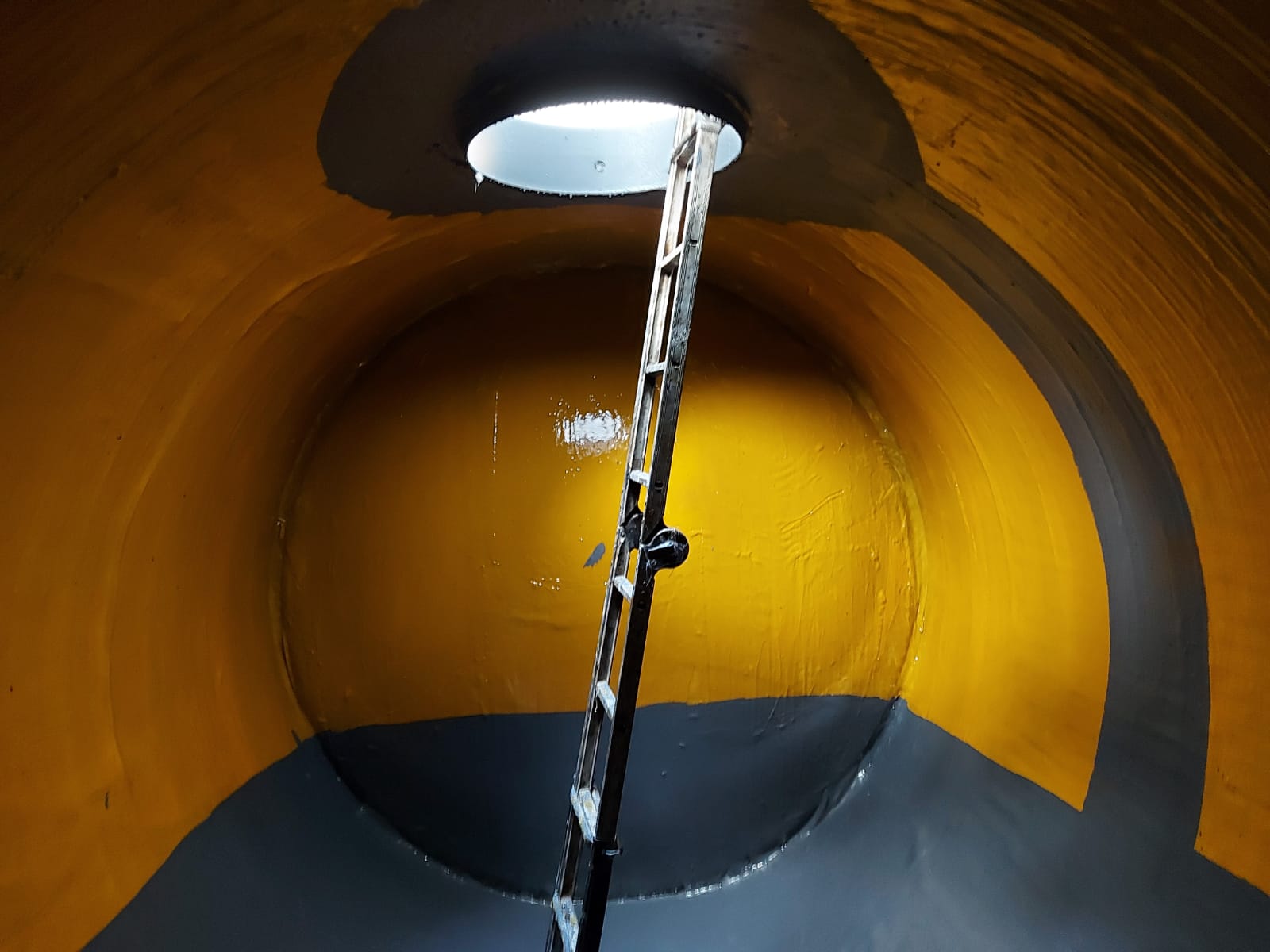 This applies to:
tank repair with a layer of structural tank lining
tank hole repair
double-walled inner linings weblink to the brochure
sump sealing and sump lining
Construction sites and risk of infection
According to virologists, there will be no complete containment of the virus for many months, maybe even a year. Therefore, in the event of an infection, quarantine will always be necessary for all potentially infected people. This means that complex construction sites have a significant risk of being blocked. For instance, as soon as a Coronavirus case occurs in the family of a single worker. The only solution we see in this case is that construction sites are made as small as possible and with only one company, if possible.
Execute our teams of 2-3 people without interfaces with other companies. In addition, our employees have been used to working with filter masks and protective suits for years, so that in this case no difference to previous work processes is necessary.
Investment decisions
As the IMF predicted, global economic output will decrease by at least approximately 8% this year. A slow recovery is then predicted. Translated to the world of petrol stations, we expect this to lead to stagnation in fuel consumption. In parallel with the increase in electric mobility, this can mean that fuel consumption will level off in the medium term. It seems that capacity expansions tend to become less interesting. Investments that seemed reasonable up to 2 months ago must be re-examined.
We can definitely offer you alternative suggestions in areas like:
structural interior coating and double-walled interior lining instead of tank replacement or new construction of the system with a comparable service life
conversion of gasoline – diesel tanks into AdBlue tanks or other media
concrete and manhole seals renovation of cathedral manholes instead of renewal
As information, we are currently running projects for biofuel adaption despite Covid-19 phase in Austria.
Without any doubt, at Wolftank Austria we will continue to work offering the highest quality for tanks in the retail net. Our commitment is our customers have storage in perfect conditions. And not only in times of pandemic, but always and under any circumstance!