The scope of the project
The ring walls are crucial areas of an aboveground storage tank. They suffer the weather such as high UV radiation or rain. In addition, this area carries the weight of the tank itself including the product inside as well. Besides the above-mentioned heavy load, this ring is exposed to intense movements caused by weather conditions and up- and unloading of the product. Therefore, the proper protection and rehabilitation of the ring wall are actually essential to warranty the integrity of the tank.
The challenge
The customer was a private refinery on the Northeast coast of Italy. It has been operating since the late '50s in the heavy oil crude refining sector. The firm has always been committed to the implementation of a policy attentive to the strengthening and improvement of the plant. In consequence, our customer has consolidated its presence on the national market and has significantly increased exports to various foreign markets.
Therefore, the challenge of the customer is to maintain the integrity of rather dated assets. And this in an environment with a high level of corrosion due to the proximity of the sea.
The solution
Because the ring wall of the tank showed both heavy signs of wear in the concrete substrate and of corrosion in the metal one, we applied a solution that would repair both in a homogeneous and weather-resistant way. On a sandblasted treated surface, we, therefore, applied a series of different layers as shown in the picture.
Rehabilitation: advantages of our ring wall coating solution
Excellent anti-corrosion barrier which helps to extend the life of the tank
Two-component primer with high adhesive power on different surfaces
VOC-free protective coating with high elasticity
Final layer with high electrical conductivity
The outcome
The customer gave a very positive feedback regarding the rehabilitation of this ring wall. Actually, he stated that it was beyond expectations, both from the point of view of the result and of the conduction of the operations, quickly and flawlessly. As a result, more interventions on ring walls have been planned to protect other tanks, in Italy but also in other countries.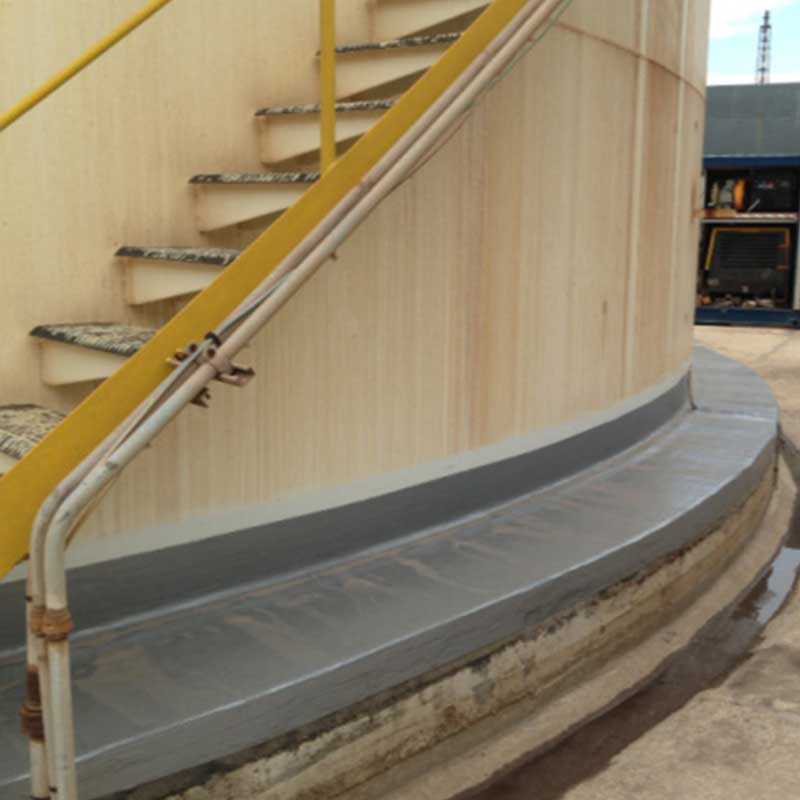 This ring rehabilitation work proves that Wolftank Austria tackle its projects with the highest quality and commitment. Find out more Wolftank Austria's rehabilitation projects on our case studies section.