The European Union has strict regulations for storing, transportation and operation of water pollutant liquids, such as oil and gas products. Underground and aboveground storage tanks must fulfil those regulations which authorities control and regularly inspect. A safe way to achieve this goal and stay compliant, not only with European regulations but also with international regulations is installing or upgrading tanks to a double floor technology with a leak detection system.
The scope of the project
In this case study, our partner Wolftank Systems -an Italian tank application specialist- received a petition for a double floor tank rehabilitation project in Milan. It consisted of two tank farms with over 50 bulk storage tanks in total. Both tank farms are located in sensitive environmental areas, in a nature reserve and on the shore.
The challenge
Wolftank Systems's customer decided to transform the 50 bulk storage tanks from single to double floor within only 18 months. Due to this short period of time, they requested a solution with a smooth-running application process. They needed to avoid any interruptions during the application, to be fully compliant with the European regulations and to achieve the best environmental protection.
Both tank farms run on a pre-installed centralized tank monitoring solution, monitored locally and centrally from the headquarter of the customer. There, our vacuum leak detection systems needed to be connected. This required also some customization of our vacuum leak detection systems.
The solution
Then, to completely fulfil Wolftank Systems requests and ensure highest tank integrity, we suggested them to use our DOPA® 6N system. It is a double floor tank lining system reinforced with a fibreglass laminate layer. According to the Reference Document for the Refining of Mineral Oil and Gas (Directive 2010/75/EU of the European Parliament and the Council on industrial emissions – integrated pollution prevention and control), it is one of the best available technologies on the market.
The liquid epoxy top layer is classified as solvent-free, high solid and non-flammable. This ensures safe and smooth operation at the construction site with great chemical resistance. The system comes with a class-1 vacuum leak detector which provides 24/7 interstice monitoring.
The application steps are the following:
Surface preparation: sandblasting
Grounding: epoxy-based primer with a roller
Interstice: knurled aluminium sheets, tapes
Laminate: epoxy-based lamination resin with fibreglass sheets
Top layer: epoxy-based resin with air-less spraying unit
Anti-static layer: epoxy-PU-based resin with a roller
The customization of our vacuum leak detector led to a fully compliant and complete solution. It was connected to the pre-installed monitoring system. The team successfully finished the double floor tank rehabilitation in time and budget.
The outcome
Now all the tanks are protected with the best-in-class technology for leakage prevention and monitored 24/7.
The tank farms now fulfil all European regulations and gained a competitive advantage because of the reinforced structure and the lifetime extension for over 20 years without any additional maintenance costs during that time.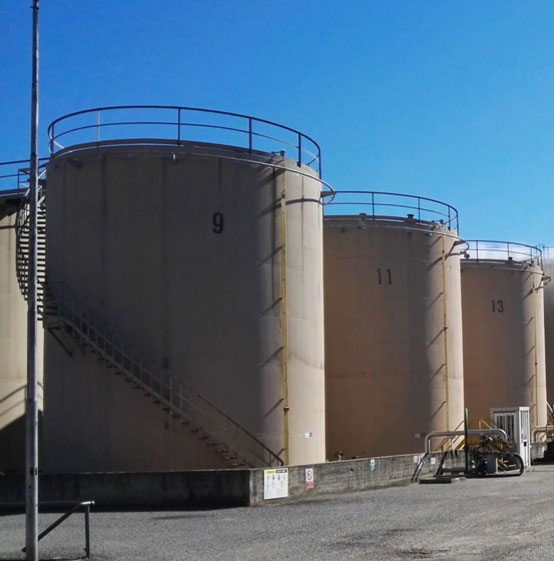 More information about the DOPA® 6N available here.