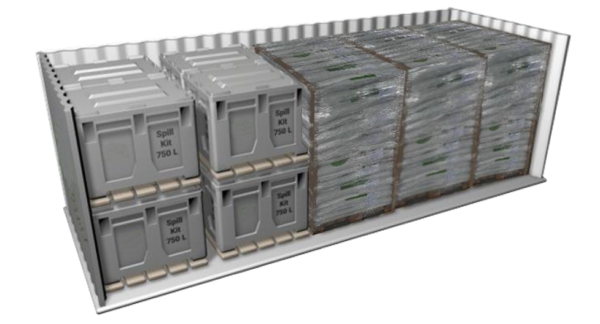 Wolftank Austria presents its spill container solution for emergencies
Wolftank Austria presents its spill containers with ASTM F726-12 approved spill management products. They are a reliable solution to prevent and eliminate liquids or oil product leakages and spills. Moreover, they work as a preventive set, available in two different versions:
Land protection: appropriate for industries with high risk of soil contamination. It offers an absorbency of > 18 tons of oil products in 20 minutes, including oil only absorbent products, universal absorbents, and fire protection mats. For this reason, it is suitable for land-based usage in oil terminals, tunnel construction projects, mines, refineries, and chemical plants.
Water protection and offshore, which focuses on industries with high risk of water contamination for offshore and land-based usage. Its absorbency is > 25 t of oil products also in 20 minutes, including a broad set reusable oil only absorbents for oil recovery. This version can be installed in proximity to oil products' storage, pumping stations, barges, or offshore platforms.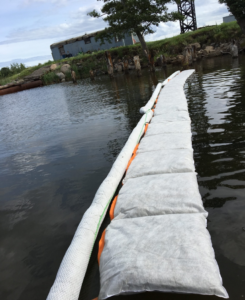 Certainly, every item of the spill container is able to absorb a wide range of liquids making Wolftank Austria's absorbents an interesting solution for very different sectors. Fuels, petrol, diesel, water, mineral oil, hydrocarbon solvents, coolants, paints, alcohols, dilute alkalis, agricultural chemicals… among others, can be perfectly absorbed and recovered with rapidity. Therefore, our customers belong to various industries such as marine, manufacturing, agribusiness, safety, automotive, transport, petroleum, or spill response business.
ASTM F726/12 standard
In addition, Wolftank Austria's spills absorbents adopt the ASTM F726-12 Standard Test Method, the global reference standard for spill absorbance products. It attests the performance of adsorbents in removing no emulsified oils and other floating, immiscible liquids from the surface of water. Results were exceptional, presenting an excellent standalone performance during the ASTM testing process. Furthermore, the test showed that absorbance capacities reach over 25 times of its own weight!
In summary, Wolftank Austria containers are essential for spill management and prevention. It provides a complete solution, with a wide range of products applicable in very different contexts and according to necessities: from small spills to big emergencies. Therefore, Wolftank Austria's container can easily solve every spill, quickly and always respecting the environment!
To check the interview with our internal spill absorbent specialist, please click here.