In the recent contribution about trends and changes in the fuel distribution, Wolftank Austria emphasized the necessity to make stations ready for more different types of fuel storage, including synthetic and alternative fuels as well as liquified natural gas (LNG) and biofuels.
Local regulations started to adapt to new requirements due to rising alternative fuels. This goes alongside with an increased focus on global environmental sustainability and continuously monitored safe fuel retail networks.
2020 tank lining systems and alternative fuel storage
In the last ten years rehabilitating retail networks with double-wall tank lining systems was in direct competition with the extension of the diesel storage capacity. Due to the new tendencies and diesel gates in Europe, tank lining operations figure out as the most tailored, sustainable and cost-efficient solutions. Furthermore, they keep retail networks profitable over the next years and the expected transition phase.
Rehabilitation of an underground storage tank typically is considered as an operational expense (OPEX) with completely different evaluations in terms of ROI than capital investments (CAPEX). This investment approach reduces significantly the risk for decision makers when it comes to decide how to upgrade tanks for synthetic and alternative fuels and biofuels.
Why not choosing a lower investment but still receiving best quality?
Tank lining is in most cases a lower investment; in particular when it is executed while open station.
Wolftank Austria customers reported that the margin generated at the gas station with sales during the tank lining operation of 2-3 weeks was higher than the cost they had for the rehabilitation itself.
A lower initial investment reduces the period up to the storage tanks profit and so the time to reach ROI is reduced likewise. When you compare new construction with tank lining, lower investments do not mean less lifetime!
Wolftank Austria optimized its process and technologies in an optimal way. Allowing them to offer their lining systems for a price/cost significantly lower as a new construction. However, still remaining competitive with the best lining systems on the market. In fact, Wolftank Austria lining systems are well known across the globe and appreciated by major companies, such as Total, Esso, Shell, Sinopec and many more. (Please, see reference list).
Tank lining system suppliers of today shall provide a high versatility in their product portfolio. Especially when it comes to the increasing number of different types of fuels. One might think investing in alternative fuel storage tanks is connected to even higher construction investments. Luckily, it is not always the case.
Alternative fuel storage, accessible for every retail network
The latest and probably most difficult challenge for underground storage tanks is the storage of methanol. Including also gasoline containing up to 30% methanol. Recently methanol has received as fuel and energy source particular interest by countries developing solutions to produce methanol from cole. The storage of methanol requires only the most chemically resistant tank lining systems in the industry. As of today, lining systems who resist methanol are amongst the best available in the storage tank industry. Wolftank Austria is more than proud to be part of a considerable group of companies, able to provide sustainable solutions for methanol storage with long-term lifetime.
Especially in the fuel retail network industry, choosing quality and getting long-term solutions is essential to stay competitive. As written above, Wolftank Austria is continuously optimizing its technologies over the last 35 years. The company was able to improve its tank lining systems and coating technologies while constantly growing the global sales network.
Structural sustainability
Wolftank Austria is providing structural sustainability to avoid any leakage with best-protecting lining systems including the loss of fuel. Focused on this task, the company accumulated a huge tank lining product portfolio that allows amplifying gas station networks worldwide and of every scale. Hassle-free for you with only one single supplier which covers all of the essentials:
It is always necessary to receive some more information about the specific regulations and requirements in each county. Are you planning a new project? Or to upgrade your retail network? Wolftank Austria's specialists are available 24/7 for your questions. Contact us!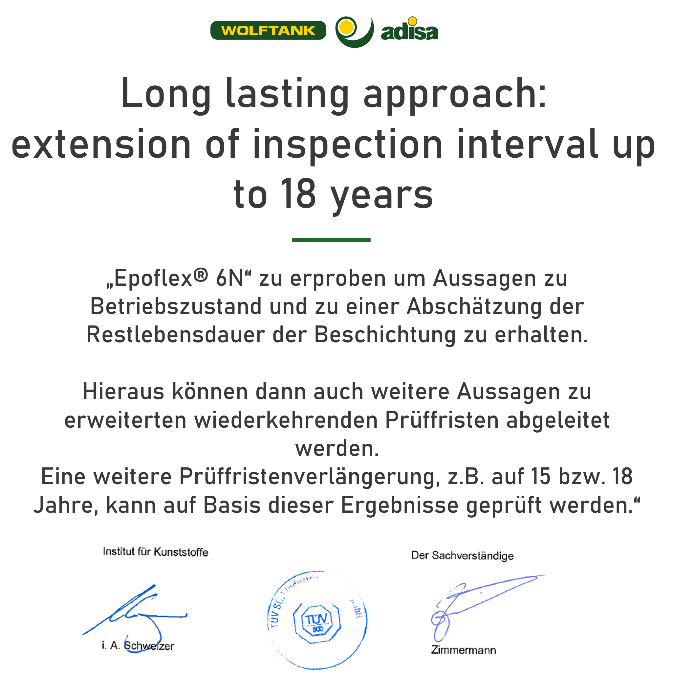 Wolftank Austria cooperates with global leading institutes for testing and innovating solutions. One of these institutes is the well-known German TÜV Süd. In their recent test on Epoflex® 6N they approved the this lining system to extend the inspection interval up to 18 years. Thus, meaning that the lining system is capable of extending the lifetime of a storage tank effectively.
How has Wolftank Austria achieved this?
As of today, Woltank Adisa has been successful over 35 years in the oil and gas sector. The experience in traditional and alternative fuel storage has provided over 12.000 clients with double-wall lining systems, outside corrosion protection, cleaning technologies, and much more services.
Technicians worldwide applied their technologies. This allowed Wolftank Austria to keep in constant exchange and collect a massive amount of feedback. The continuous focus in improving the processes led the company to be one of the most well-known brands in this sector.
Recently, due to the high demand for alternative fuel storage, Wolftank Austria put a considerable effort into developing solutions for gas stations all over the world. They are affordable for even smaller retail networks and supporting them to get ready for the alternative fuel demand.